Chuck Levin's Washington Music Center
Meet Adam Levin, Co-Owner and General Manager of Chuck Levin's
Chuck Levin's Washington Music Center main building in Wheaton, MD, before new construction
The Washington Music Center in the late 60's after moving to Wheaton following the Riots in '68. They had only this one floor of the main building; now they occupy 8 buildings
Chuck Levin's is the country's largest independent music center – and proudly located in Wheaton. Grandson of original owners Chuck and Marge Levin, we spoke to Adam about the Music Center's longevity in the D.C. region and what's in store.
Still family owned and operated after all these years! Chuck Levin's Washington Music Center is a Wheaton tradition. Tell us about your roots and how your iconic store got started.
Our story begins in 1958 on H Street, NE, in Washington DC. Chuck and Marge Levin started the Washington Music Center after learning the art of selling and "wheelin' and dealin'" from his mother's pawn shop which was down the street. Chuck and Marge opened the shop not because they were musicians, but because they loved the people and energy that surrounded music. Chuck always said, "Music is a happy business." Chuck Levin's quickly earned a reputation as a "must-visit" location for any musician passing through, but more importantly any musician eager to get their hands on an instrument. Flash forward 10 years to April 1968, and the riots that tore through DC after MLK Jr. was assassinated. The store was burned to the ground. All the inventory and the memories – destroyed. But that did not deter Chuck and Marge. They and decided to re-open the Washington Music Center only 3 months later in its current location in Wheaton, MD.

To overcome the deficit of the fire, we started increasing our volume to do enough business to pay our bills on the inventory that burned, and continue driving to stay in business. It was that energy and drive that catapulted us into becoming the "super" mom and pop shop that we are today. As we grew, so did our footprint in Wheaton. Now in 2019, Chuck Levin's Washington Music Center occupies seven buildings, employs over 100 "extended family members" that keep that same energy going, and we are in the third generation of the Levin family

Your offerings have grown substantially over the years – if you can give us an overview of the latest at Chuck Levin's.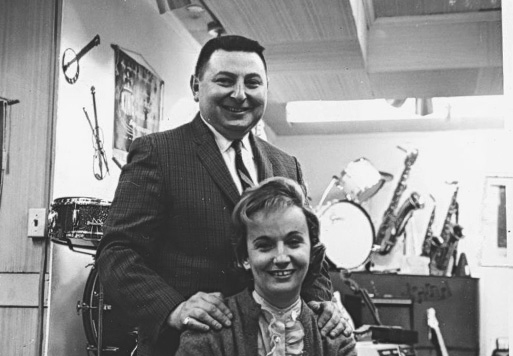 A young Chuck and Marge Levin in the original Washington Music Center in Washington, DC
2018 marked our 60th year in business. We currently have departments that specialize in Guitars (Acoustic, Electric, and Bass), Drums (percussion, drums, marching bands, orchestras), Pro Audio (recording studios, live sound venues, bars and restaurants, cycling studios yoga studios and other athletic venues, schools and university classroom and conference rooms, portable live sound, installation), Keyboards and Synthesizers, Band and Orchestra (Trumpets, Saxophones, Flutes, Trombones, Clarinets, Oboes, etc.), Microphones (recording, live sound, interview and broadcast, podcast) along with accessories and four repair shops.
It's amazing to think how many different ways we incorporate music or audio into the world, and Chuck Levin's sits at the intersection of all of them.
Tell us about the changes you've seen in the more than 60 years in business, in the music industry?
The music industry is a tricky world. Some things have changed dramatically, while others have barely changed at all. The speed at which technology has improved in our lives has completely changed the recording studio and live sound world, keyboards and synthesizers and computer-based recording – while other categories like trumpets or guitars have not changed all that much. A Fender Stratocaster and a Gibson Les Paul are still some of the most popular instruments on the planet. But ask someone what a reel to reel recording machine is these days and they'll give you a blank stare like you are talking an alien language.
In Wheaton?
Wheaton is changing dramatically right now. In the last five years, we've seen major development and interest in making Wheaton more of a "downtown" vibe, and there are significant construction projects afoot making this a reality. We are currently undergoing a facelift of our own, revamping our façade and giving our old buildings some fresh life.
It's quite an honor to be known as the largest independent music store in the country. How do you stay competitive in a changing landscape both online and in stores?
The Modular Synth demo area in the Keyboard and Recording Department
Being a single location has meant that all the players are together every day and can act as one to bring about change and adaptation. Our competitive advantage comes from our vast inventory, our pricing that can compete with the biggest of big box retailers – but the real advantage comes from this family. These 100 people, their efforts, their knowledge and expertise and our dedication to the customer are what set us apart. In the last 5 years we have launched our eCommerce channel www.chucklevins.com which has been growing rapidly out of our Wheaton location and has nearly doubled each year since launching in 2014.
How does Wheaton's designation as an Arts & Entertainment district factor into your business success?
It's exciting to see Wheaton bringing more arts to the area. In the last five years we have supported several Wheaton Arts Grant winners by allowing them to use our Clinic Room space to host their events free of charge for the Wheaton community. These have included things such as the Wheaton Film Festival, Brazilian Drum workshops, Orchestral Workshops, and more. We are excited to see how this evolves and are honored to be a part of it!
Why is it important for folks to support music both locally and globally?
Music is a language that breaks down all barriers and opens doors to new worlds. It is an emotional business, it brings joy to people's lives, it brings comradery and unity in bands, it gives people an outlet to be creative, to express feelings, to "speak" to others when words might not be enough. Music is in our lives all day every day, whether we realize it or not, and we need to ensure that we have amazing musicians for generations to come.
Limited Edition Fender X Chuck Levin's 60th Anniversary Telecaster and Stratocaster designed for their 60th Anniversary in 2018. Only 30 of each instrument were built to commemorate 60 years in business
Who are some of the 'famous' people in music who have passed through your doors?
Stevie Wonder, Arturo Sandoval, Timbaland, National Symphony artists, DJ Kool, The Redskins Marching Band, SOJA, Nils Lofgren, Victor Wooten, Alan Parsons, and more.
What's in store for Chuck Levin's as you move into the next 60 years?
We will have to see! But whatever it is, we will do it with our family, with our extended community of musicians and friends, with a keen focus on being an instrumental part of this amazing world of music.